About RRR Supply, Inc.
Testimonials
RRR Supply, Inc. liners have given my company 10 times more wear out of our boxes. We have minimal haulback and is the slickest liner for fly ash I have ever used. I would recommend RRR Supply, Inc. liners to anybody who hauls any type of sticky loads. From the point of ordering to delivery, it was a pleasant experience to know that I'll get the whole kit and not have to worry.
Dan Long
Superintendent of Ash Resources
Washingtonville, PA
RRR Supply, Inc. liners help protect our fleet. We have become safer and more efficient in unloading our products such as wood chips, lime, and sand. As far a service goes, they stand alone in customer service. We had quick response from order to delivery. My drivers appreciate the liners and the safety they provide.
Ernest Lake
Wood Chip and Stone Division Manager
Hab-Nab Trucking
Seaford, DE
RRR Supply, I am very pleased with your product & service. I have already hauled some with your product, it works great. You were great to deal with on the phone and everything in the shipping went exactly like you told me it would, & arrived in great condition. Your price was very fair & I will be sending people that need this product to you. I appreciate it.
Danny Victor
Portales, NM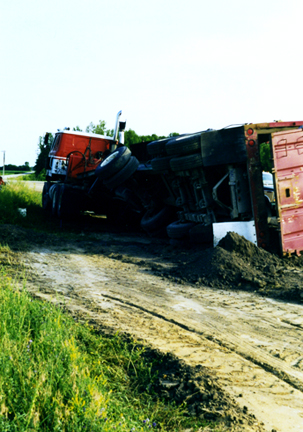 Don't let this happen to you! We can help!
RRR Supply, Inc. Liner Company started as a need for the owner, Bob Groulx, a farmer in rural Michigan, to make sure his crop would release from the truck bed. Many times the crop of sugar beets was heavily encrusted in mud and he would worry that if one side of the bed released before the other, the truck could flip over and kill a person.
A friend of his happened to sell liner systems that made any material release from the truck bed much quicker and without having to raise the hoist so high. Bob bought a liner from him and then bought five more for the rest of his trucks. Soon after that, Bob started helping him sell liners. When his friend decided to get out of the liner business, Bob bought his business in 1986 because he could see a real need for them.
Now, after over 25 years in the business, he has an expanding business that includes selling liners all over the United States and Canada including Alaska and Hawaii. There are many customers who have become dealers and installers of the liner systems.
Bob has worked with the chemists in the field who have come up with a variety of grades of the liner systems. Now in addition to agricultural products, the liners can handle many different products including wood, construction materials, and even hot asphalt. To better serve our customers, there are four widths, six different thicknesses and five different formulas.
RRR Supply, Inc. prides itself on customer service. It has gone from a small local company to a large national company, but prides itself on fast, friendly, personal service with a hometown feel. You don't talk to an automated phone with us. You will be connected to one of our knowledgeable salespeople who can give you the answers to your questions quickly and competently. We can spend as much time as you need to make sure the liner is installed correctly. In addition to our salespeople, our shipping department also gives attention to detail to make sure customers get their liner systems carefully packed and promptly shipped.